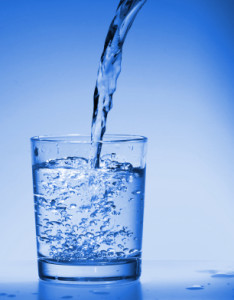 Although our lives depend on it, and it's purity is essential to good health, the severe problems involving water go ignored by the mainstream media. Even now, as you read this, you may be wondering what problems I'm referring to. Go through the following and see what you haven't been told.
---
The Story of Bottled Water
http://www.youtube.com/watch?v=Se12y9hSOM0
FYI: We don't have safe tap water.
The Fluoride Deception
http://www.youtube.com/watch?v=Ly_QP4rGczo
Bizarre USA Fluoride History
http://www.youtube.com/watch?v=NGtcep5Tg14

---
Fluoride and The Pineal Gland
http://www.youtube.com/watch?v=XSZQ3ixu7a4
Melatonin – Overview
http://www.webmd.com/sleep-disorders/tc/melatonin-overview
Melatonin
http://www.umm.edu/altmed/articles/melatonin-000315.htm
Do you know what's needed to produce melatonin? Serotonin. And for the past 20 years, who has had the greatest effect on the citizen's (the country's) serotonin levels and production? The drug companies (chemical companies of "The Families").
Pineal Gland
http://www.fluoridealert.org/issues/health/pineal-gland/
Pineal gland
http://en.wikipedia.org/wiki/Pineal_gland
A Fluoride-Free Pineal Gland is More Important than Ever
http://www.naturalnews.com/026364_fluoride_pineal_gland_sodium.html#ixzz28PTNxTC3
Ancient Egypt: Pineal Gland, Chakras
http://www.youtube.com/watch?v=PDoSM1RVn9c
Understand: Certain things attributed to the pineal gland are only thought to be true, even what's said of the Egyptians.
Dumbing-Down Society Part 3: How to Reverse its Effects
http://vigilantcitizen.com/vigilantreport/dumbing-down-society-part-3-how-to-reverse-its-effects/
Drugs in Drinking Water Mind Control and Others Must Watch
http://www.youtube.com/watch?v=qGWWarqyp8I

---
Dick Gregory on Drinking Water
http://www.youtube.com/watch?v=qf8bBgWKugw
–Nuggets of truth
The vegetables that can hydrate you more than a glass of water
http://www.dailymail.co.uk/health/article-1200531/The-vegetables-hydrate-glass-water.html#ixzz29uSdE7IA
---
Some bottled water companies use reverse osmosis in their process of "purifying" the water. Judging by the following information, this process "harms" water.
Reverse Osmosis Process
http://www.youtube.com/watch?v=VmZXa8tgnRU
RO Membrane
http://www.youtube.com/watch?v=rK7UVY_7K8w
WATER FOR HEALTH AND LONGEVITY
http://www.drlwilson.com/articles/water.htm
---
Now, go back up to The Story of Bottled Water. People are so devious, methods of manipulation are so advanced, and the people controlling the manipulation have so much control that this presentation is actually aimed to increase desire for tap water. And the makers would definitely know that most tap water is filled with fluoride.
This could be another example:
CNN: Most Bottled Water is Tap
http://www.youtube.com/watch?v=saSgpX186MM
Note: They're testing for taste. The purpose of drinking water is not taste.

---
Here's some water (real water)
http://www.findaspring.com/
---
Additional documentaries on water
Blue Gold: World Water Wars
http://www.youtube.com/watch?v=6uRYvNKHgi0
Conspiracy Theory W/ Jesse Ventura: Great Lakes
http://www.youtube.com/watch?v=CCZxdSJ_cxI

---